//branvee.com/cdn/shop/articles/1_2_f4ba5ca8-d88f-40e5-a29e-964b59ef7fa2_small.jpg?v=1673553881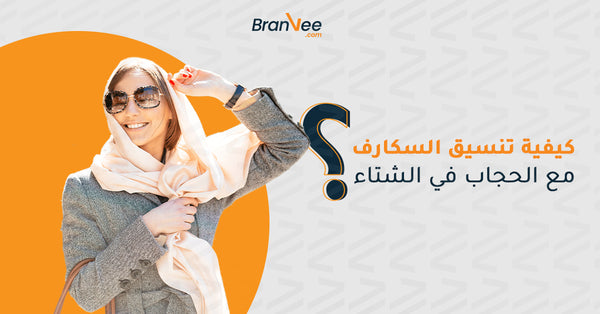 How to coordinate a scarf with a hijab in winter?
How to coordinate a scarf with a hijab in winter?
Rain and snow fell these days and the Egyptian sky was filled with clouds, and accordingly we all set out to use scarves and scarves for more warmth and at the same time elegance and distinction, but! The matter with the hijab is a little different. Wearing a keffiyeh, shawl, or, as some say, a scarf requires thinking about some things in order for the scarf to fit with wearing the hijab. In the following lines, we will learn together about the ideal way to wear the scarf with the hijab in an appropriate way.
Tips for wearing a scarf with the hijab


When wearing a shawl or scarf, choose a hijab with light material to avoid feeling suffocating or hot due to the large amount of material in the neck area.

Never choose a hijab or scarf with a pattern. Choose one with a pattern and the other in neutral colors such as white, beige, black, lemon, pink, gray and brown.

Do not wrap the scarf around the neck in multiple turns so that it does not appear bulky and annoying.

If you choose a multi-colored keffiyeh, the hijab and clothes should be completely calm and neutral colors.

When wearing a scarf, choose simple, delicate neck accessories, and there is no need for strong accessories that will attract the eye.
Different ways you should try to wear a scarf
The first method: throw it back


An easy method is done by: wrap the scarf evenly around your neck and then throw one end back over the opposite shoulder as in the picture.
The second method: Leave it like a curtain


One of the simplest ways is to throw the scarf over your shoulders, make sure that the two sides are equal, and you are done with this elegant, comfortable, quick and easy method.
The third method: twisting like a ring


Make one side shorter than the other, take the long side and wrap it around your neck one or two times depending on the length that makes the two sides equal.
Fourth method: folding and pulling


Fold the scarf in half, then wrap it around your neck, and pull the two ends through the loop. It is a delicious method and the result is very elegant.
Fifth method: the shawl


Expand the scarf and simply place it over your shoulders and upper arms, very simply.