//branvee.com/cdn/shop/articles/1_small.jpg?v=1683644663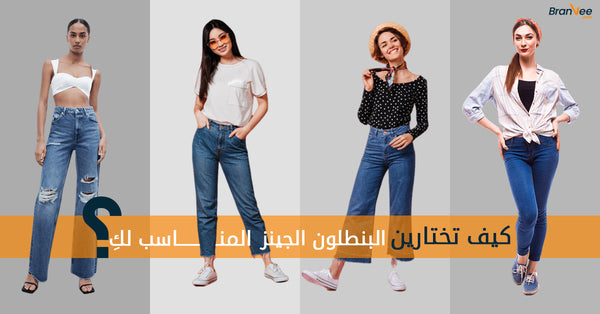 7 different types of jeans for you to choose from
Jeans fashion amazes us with everything new every day. Every day, new models appear, distinctive colors, and different details. Despite the beauty of the changes and innovation that occur in the field of fashion, this matter may sometimes leave you confused and frustrated when buying and shopping! Even jeans have transformed from just "jeans" to many types, shapes and colors, and it is no longer as easy as it was before.
You may have an all-time favorite pair of pants that you wear to all outings and occasions, and you treat them like a "joker" because they are versatile, but this may make you look unflattering at times, and the question here is: How do you choose the right jeans for you?
For us women, jeans are an essential piece in the closet, indispensable. They are suitable for work, for university, for the club, for meeting friends, and they can even be used and styled for evening parties and outings, so choosing them must be done carefully.
The first step to buying a suitable pair of jeans is: knowing your body shape, and you can learn more in this article. Knowing your body shape, whether it is a pear, hourglass, apple, or straight. Denim pants suit you if you are tall, and skinny jeans make you appear taller, and the same goes for the rest of the types. Each type shows you differently, so you must know your needs first so that you can make the right choice.
How do you choose the right jeans according to your body shape?
There are 7 different types of jeans
If you have a rectangular body, choose jeans with a low waist in different light colors. And dark, and completely avoid very wide jeans because they will make you look unflattering.
If you have an apple-shaped body, choose wide or straight jeans, as this will make your body more proportional.
If you have an hourglass body, choose whatever you want, as all types suit you.
If you have a pear-shaped body, choose jeans with a high or wide waist, and stay away from skinny jeans because they will make you fuller.
Different types of jeans
Skinny jeans - Skinny Jean
It is a well-known type that has been on the market for nearly 20 years and is suitable for women with a slim figure. It has two types - the skinny with a high waist and the skinny with a regular medium waist.
Mom Fit Jeans
This type has spread recently and is one of the most suitable types for those with a pear-shaped body, because it makes the waist appear slimmer.
Boyfriend Jeans
This type appeared around 2015 and has become a fashion feature in recent times. It is considered an elegant pair of trousers and its appearance becomes distinctive when worn with wide shirts.
Straight jeans
This type began to spread as an alternative to skinny jeans, and it is suitable for those with an apple and hourglass figure. It can also be coordinated and used in the evening.
Charleston jeans
The fashion of the sixties and seventies is back again, and these pants are considered one of the most important fashion trends in 2022 because they appear strongly in Zimmermann fashion shows.
Wide leg jeans
These pants feature wide and short legs, and are suitable for tall women, and those with hourglass and apple bodies, creating the balance they prefer.
Jeans with pockets – Baggy Jeans
It is one of the types that appeared in the past in the late nineties and is still present, but under the name cargo pants, but it has become more widespread in late 2022 and the beginning of 2023. It is characterized by containing many front, side, and back pockets.
Learn how to choose the right size for cargo pants and which model is right for you in this article.
We mentioned the most important types to you, and remind you to choose between them according to your needs, body shape, and comfort. In the end, do not follow fashion without considering what suits you.